In my last little map, I mentioned that I made it as a specimen for Project Linework. I figured, though, that I should rewind a bit and explain more about what Project Linework is, and why you should care. The idea behind Project Linework has been well articulated by my colleague Daniel Huffman, the same person who came up with the idea in the first place. But I'll restate the idea in my own words.

In cartography, the data we use to draw our borders and coastlines (in other words, our basemaps) are the result of some pretty hefty technology: satellites, surveying, and gobs of tedious work to trace it all. The result is linework that is highly clean, accurate, and detailed. And that's awesome if, say, you're doing a highly technical geologic survey, or making a map people will rely on for navigation. In most other cases, though (… which just might be the majority of the maps we make), all that accuracy and detail is actually a liability, in certain ways. There's no reason a small choropleth of the U.S. needs to depict all the tiny-scale minutiae of rivers and borders and coastlines. It looks overly-specific and 'jaggy', but perhaps worst of all, it looks boring. When we have the opportunity, we want to make maps that are personable and expressive, not boring and same-y. Cartographers have needed to use 'generalized' linework for centuries, so why not use the simplification and abstraction process as an excuse to be a li'l artful? There are resources out that provide excellent map linework of the "technical" sort: Natural Earth is the one I recommend most. There weren't, however, any resources where you could acquire more unique specialty cartographic linework. That's where Project Linework comes in. It offers a variety of 100% custom-made linework sets for cartographic use. Best of all, they're all available under public domain, meaning you can use them in any way you'd like. We make and share them solely for the enrichment of the cartographic community.

Practically speaking, here's how you can use the files from Project Linework. Each .zip contains the linework as a shapefile (.shp and whatnot) and as vector art (.ai). The former is openable by pretty much any GIS software, and even hops right into design tools like Tilemill. The .ai file is openable by pretty much any vector graphics software, but if you happen to open it with GIS software, you'll have the luxury of being able to reproject it, link it to a data table (for chloropleth mapping or whatnot), or whatever else you need to do to build your map. Not all of them will look as nice when reprojected, and they're not going to line up perfectly with other datasets (like complicated roads or rivers), so use the linework descriptions and your common sense to know if they're appropriate for your project.
The project has 6 different linework sets so far, and I've contributed two of them: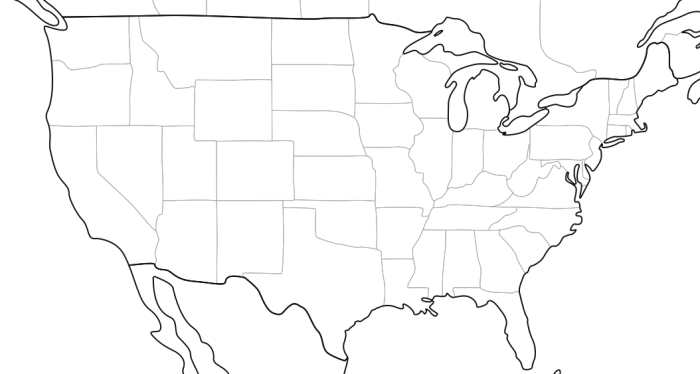 Elmer Casual is named after myself… which was entirely Daniel's idea. Anyway, this generalization has a loose, sketchy feeling, perfect for maps that don't want to take themselves too seriously. It was the basis for my Fiction/Reality map, and happens to be the most complete set of the bunch, containing North America, Europe, and Japan.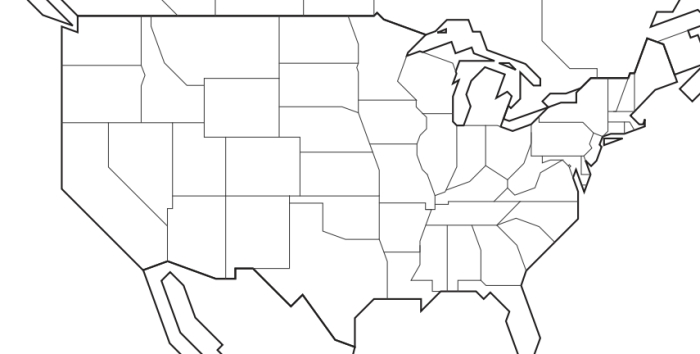 Twenty Seventy is named after its most handsomest of angles, and has basically the opposite aesthetic to my other linework set: this one is all about being techie and digital. It covers North America right now, but if enough people egg me on, I totally want to expand it to cover the whole world. All of the lineworks we've made are, admittedly, a bit Ameri-centric.

Well, that's Project Linework in a nutshell. I encourage all the mapmakers out there to give them a shot, send any compliments/complaints to Daniel or I, and if you share our passion, consider making a linework set of your own to contribute: we'd love to expand the collection.